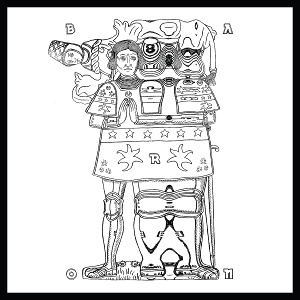 Torpor is squarely an attempt to recapture early '70s English folky progressive rock. With vaguely sci-fi lyrics. (Their self-description is "Neo-Monastic Byzantine Pastoral Kraut-Drone-Lettuce-Rock", but the only "Kraut" bit is that it's prog.) The correct comparison is slabs of whimsical prog rock vinyl from forty-odd years ago of the sort that aspired to be on John Peel in his hippie days. Guitars, drums, organ, recorder. LOOK AT THAT COVER PIC. LOOK AT IT.
The press release places Baron as prog folkies into synthetic Celtic mysticism — "the wind beaten rural landscape and the stories of magic handed down through generations of tellers." Back in the real world, every square inch of England is catalogued and curated (compare Australia, where wilderness still actually exists) and every drop of Celtic mysticism that makes it through to popular culture is as made-up in living memory as the goddess Eostre. But y'know, we all have to construct our historical launch pads.
The music itself is pleasant and competent (and better than that sounds). The playing is good, the instruments sound good (and making this sort of thing sound right is vastly easier in 2015 than 1970). Not big on memorable tunes, but the music flows well and, a blessing, doesn't run on quirks. Love of the form keeps them down to forty-two minutes that split neatly into two sides. This album turned out way better than I'd been expecting.
There's a Quietus review which is vastly more positive than mine. But it does appear that if you like this sort of thing then you'll like this one.