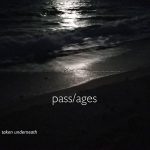 PASS-AGES: "Taken Underneath"/"Materialize Me" — when I first heard this in August it got points for putting both "neofolk" and "trip hop" as tags on the same record (I found it looking through the former). I can see what they mean, though far more the second than the first. And it's possible someone told them, but the former tag is now missing. It's much more synthy than that, though the tune in my head always seems to have an acoustic guitar on it. The B-side is a blocky synthesizer bassline with ethereal vocals over that works better than you might expect.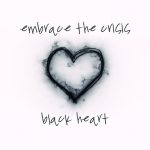 EMBRACE THE CRISIS: Black Heart — Foreboding synthpop. I was trying not to just compare it to Depeche Mode, then it kept making me go "oh, come on!" But it does it well, and I suppose it's near-impossible to avoid them in this field. The sounds are clear and fresh (and didn't seem to bash me with brick wall limiter harshness), the vocals are marvellous, beautiful and powerful. The songs are strong, and I was listing favourites as I played it and got most of the record. This is one to bop around to and one to sit down and appreciate. Above: "Liar" and "Intimacy" at their debut gig in March, which are pretty representative. Also check the SoundCloud.
TOMBAUGH REGIO: "2.7k", "A5", — two new singles and an older mini-album. "2.7k" is jangly indie pop on guitar, keyboard and drums that made me think of Mercury Rev for a moment. Beatlesish start to the vocal melody. Produced to home demo standard, but the song is fantastic. "A5" is heavier on the keyboards. It's not as immediate as "27k", but a pounder when it gets going. You'll play it repeatedly. There was also a 2014 EP Borderland Creatures, not presently available, which is several more tracks of the same sort of thing. This is sublime. Good lord, get these guys into a proper studio.