There's a lot more beauty on this new LP. Some of the new songs aim straight at the heart. It's still aggressive in a way though. Room to Live was aiming somewhere else. It wasn't about emotion as such, but it was supposed to be looser in form than anything we had done before. Perverted by Language is a lot funnier as well. We craft everything much better these days. Seriousness and humour are blended together more now. It is difficult to say though whether a song is meant one way or another. I think it's best if a writer doesn't think too much about what is being written. I don't over-analyse what I write. Some of it might be trivial and some might be obscure but it all goes towards the whole. Then again, I think my most trivial lyrics are ten times better than anything that's taken seriously — say like (yawn) Elvis Costello, boring writer, boring man.
Perverted By Language was the first Fall album I bought. (The accompanying non-album indie hit "The Man Whose Head Expanded" was the first single.) It had been issued in Australia by the tiny local office of Rough Trade, just before they actually hit big with the Smiths. They issued a pile of stuff contemporaneous with the UK releases … Raincoats, Robert Wyatt, an amazing Australasia-only compilation …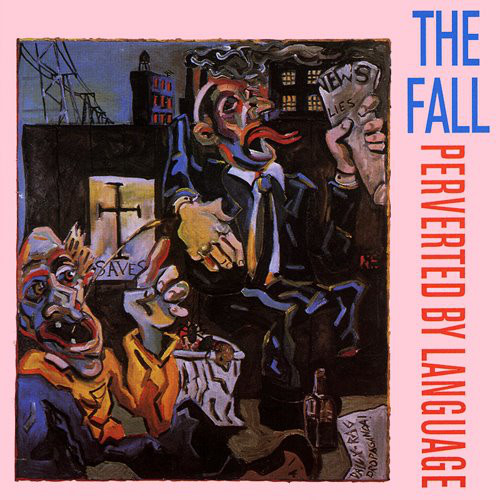 I wasn't quite sure what to make of the album at the time, but it remains a favourite. I wouldn't call it the best starting point to get into what's great about early 1980s Fall — that would probably be "Totally Wired", "Kicker Conspiracy" and "The Man Whose Head Expanded" in that order — but it's far from the worst. It's largely surreal poetry recitations over single riffs repeated in linear chugging drones for several minutes; all the lyrics make sense in Mark E. Smith's head, if nowhere else. His voice has a difficult relationship with melody, at best just not bothering. Not much here would make a plausible single.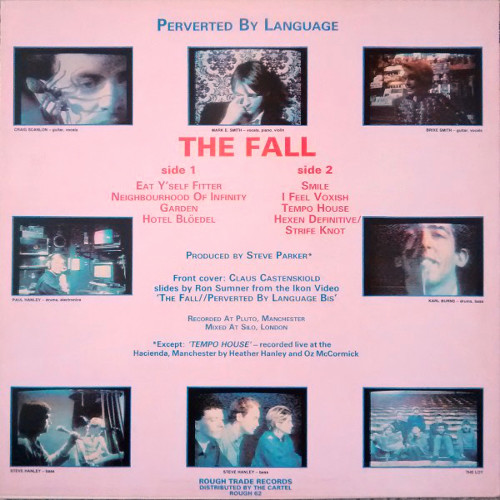 "Eat Y'Self Fitter" starts proceedings. The fabulously catchy drum and guitar riff get the music hall call and response lyric started in pop-punk single shape without delay. It turns out to be a six-minute epic, the lyrics spiraling downward. (There's a possible ending they could have taken around 3:30, but instead chose to keep right on going.)
"Neighbourhood of Infinity" is more of a linear racket. The lyric appears to be a cut-up, referring to the sleeve note "THAT Smith applied cut-up technique literally to brain".
"The Garden" is structured as an epic that thinks highly of itself. It's never been the slightest bit clear to me, even with the annotated lyrics, though the bouncy bassline is good. The words includes bits from the Mark E. Smith Guide to Writing Guide.
"Hotel Blöedel" is the first contribution from Brix Smith, who joined after much of the album was recorded. It's a pretty good pop song, based on one of Brix's old songs. The hotel is apparently the Hotel Grüner Baum Gasthof Blödel in Nuremberg: "I was sure the place was haunted. Mark lit cigarettes and put them all around the room to fight off the horrible smell. When it got light we looked out of the window and saw an old woman coming across the courtyard carrying a sack of blood into the hotel …" The hotel turned out to be next door to an abattoir. That's Mark on violin.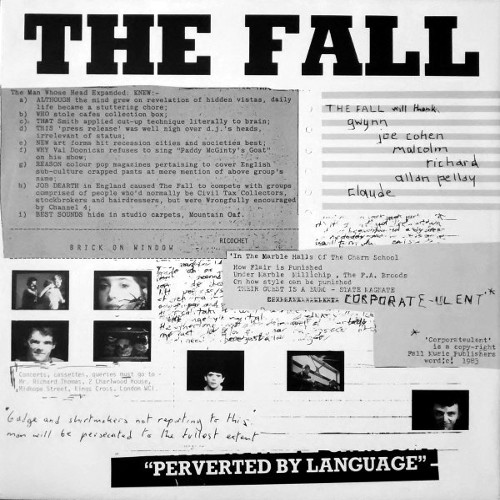 On to side two! "Smile" is five minutes of a simple descending 15/4 riff with lyrics ranting about bourgeois southerner anarchists; a strong start. "I Feel Voxish" is spiraling major-key bass riffs, and horribly perky for the Fall in this period. The seventh chords sound like the pop of the time.
"Tempo House" is a single bass riff for about nine minutes. This is a live version, not clear why (they did apparently record a studio version), but it works well.
"Hexen Definitive/Strife Knot" features a lovely guitar riff and occasional passing attacks on Marc Riley. If the Fall played the Velvets, it might sound a bit like this. It finishes the album really nicely and memorably.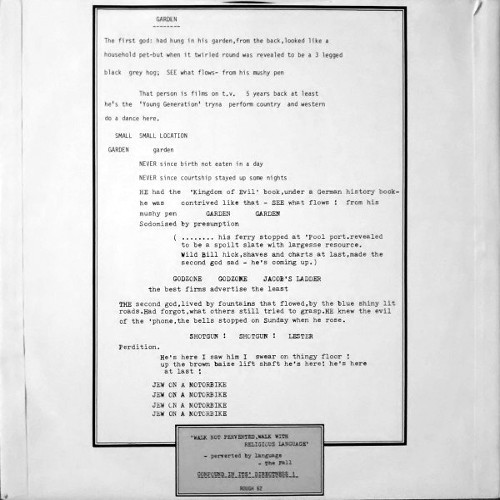 The 2005 expanded edition includes the hit single not from the album "The Man Whose Head Expanded", which is referred to in "Neighbourhood of Infinity", and previous single "Kicker Conspiracy".
The album had an accompanying video, Perverted By Language Bis, released by Ikon (Factory) after Rough Trade balked at it. I rented this from Dada Records a few times (much as I did Doublevision Present). Cherry Red released it on DVD in 2003, though it's long out of print.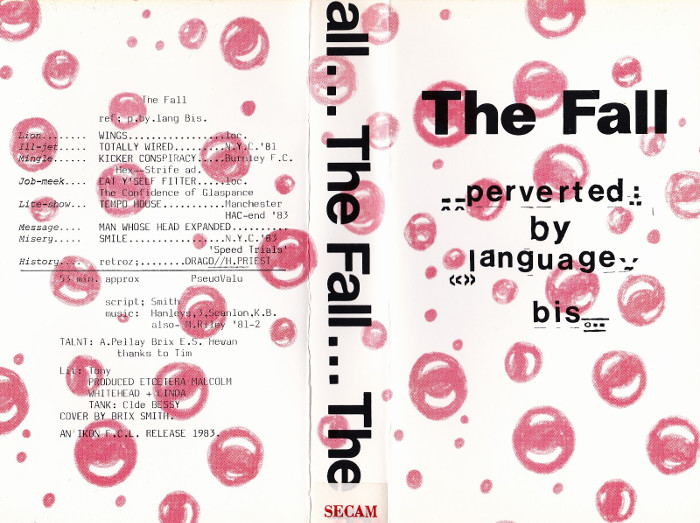 "There was a time when I asked Mark if he'd heard that 'Under Pressure' song that Bowie did with Queen and he just said, 'Yeah! They ripped that bass-line off "An Older Lover" on Slates. '" — Brix Smith, ZigZag November 1983
The next album, The Wonderful And Frightening World, is actually the exact same lineup, though I found it nowhere near as lovable even if I like more individual songs. (The 12″ of "No Bulbs" rocks.) The Wonderful And Frightening World gets into Brix's pop influence that turned the Fall into unlikely minor pop stars through the 1980s. Perverted By Language closes off the Fall's indie era.