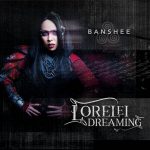 LORELEI DREAMING: Banshee (Black Pill Red Pill) — A five-track EP of more industrial-end EBM that sounds like it's gone to futurepop and come back to in-your-face noise. Music by Zoog von Spit of Angelspit. "Scream With Me" introduces per its title in no uncertain terms. "Volcano" and "Edge of the World" are rather easier-going accessible pop songs. For a vocal showcase, the vocals are surprisingly far back in the mix. There's also a pile of remixes — the original "Echo Chamber" seemed a bit lightweight, but the Sweetest Condition remix hits it. This is a good debut you'll enjoy.
ELI VAN PIKE: Welcome To My Dark Side (Dark Sign) — they think of themselves as a cross between Queensrÿche, Rammstein and the Sisters of Mercy. They sound to me like Rammstein and similar Neue Deutsche Härte but with clear vocals.
Quite a bit of power balladry; my favourites are the more industrial-leaning pieces. The second single "Herzschlag" is a well-constructed air-punching industrial metal single that sounds like you should be hearing it in a stadium. Gets better as you play through the remixes too. "1-2-Frei" wins for me too — an album track, but it uses all the parts that go into NDH nicely and effectively. "Peter, 41" didn't catch my attention, though it's a lot of other people's favourite.
There's not a lot of new ground here, but the old ground is trod reasonably well.
most of what hits the Rocknerd inbox is industrial, prog, metal or industrial prog metal. I have no idea why.