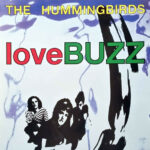 THE HUMMINGBIRDS: loveBUZZ (RooArt) — Sometimes the background story behind how certain record labels are formed can be more interesting than the music they release. Take the story behind Barry Earl's Suicide Records, and the doomed 1978 punk compilation Lethal Weapons.
Suicide Records was the Australian music establishment's attempt at cashing-in on the burgeoning 'Punk' scene. Bands were obviously aghast towards such a concept even taking place. Despite all the talk of open resistance to Suicide Records, it sure didn't last for long. Barry must've been a really good salesman, to convince so many groups to abandon their own ethos.
The end result of Lethal Weapons was nothing short of a disappointment. If you asked anyone involved in Lethal Weapons, the majority still openly regret ever taking part, or for being so credulous to begin with. If there was ever a legacy that could be salvaged from Lethal Weapons, it would be the firm reminder to any future music biz heavyweight looking to a conquer a music scene it didn't understand. Namely, "those participants you're trying to co-opt will now probably want nothing to do with you".
rooArt Records was established by the late Chris Murphy, the manager of INXS who was by then looking for an additional 'cash-cow' (INXS was fast approaching its 'use-by' date). Much like Suicide Records, rooArt had with a strange flirtation with indie music. It too started with a compilation release, titled Young Blood. Yet Young Blood avoided the trappings of Lethal Weapons, the concept of forcing its participants into being something they weren't.
If anything, the Young Blood compilation was truly an indie sounding doppelgänger, but still noticeably different for having slightly more polished production than a regular indie 45 RPM. No midnight to dawn session, no recycled tape, no muddy sounding mixdown. You might say, Young Blood sounded like someone had just taken a trip to the indie record store, and just bought a bunch of indie 45s the clerk recommended. Which is what actually kind of happened.
In a move that reeks of Suicide Records, rooArt's talent scout Justin Van Stom ventured into several indie record stores (not Brashs, haha), asking the clerks to recommend any "hip local bands". It's common knowledge that most indie store employees are also in bands, just like The Hummingbirds' Simon Holmes. Holmes happened to be working that day when Van Stom walked in, and merely played his own record released on Phantom Records to Stom. It's how they ended getting on rooArt's radar, making it onto Young Blood, and later signing as a standalone act.
However, in Murphy's defense, rooArt had more in common with Deluxe Records, established by Michael Browning, than Suicide Records. Browning had managed AC/DC before starting Deluxe, signed a few New-Wave acts, and treated the venture like betting on the horses at the track. One such pony he backed was INXS, therefore rooArt's breeding pedigree was one part Deluxe, and the other part standing in the shadow of Suicide Records. Yet, rooArt was still very much repeating the Suicide Records formula, which was the Aussie Music Biz Establishment trying to understand and market indie music within the mainstream.
rooArt's first real roll of the dice was the Hummingbirds' loveBUZZ album. It was very apparent, loveBUZZ had a decent budget, a decent production via Mitch Easter, and enormous promo push behind it. While some successes were gathered, The Hummingbirds were really serving as the 'LabRat' for the group RatCat, who later became rooArt's very brief cash cow. In retrospect, it's unfortunate that loveBUZZ had to get such such treatment.
The Hummingbirds' relationship with rooArt eventually soured. The six album rooArt deal ended after the release of 1991's Va Va Voom. The following year, The Lemonheads released It's A Shame About Ray, an album where Lemonhead Evan Dando took a different direction, borrowing heavily from The Hummingbirds, even roping in Hummingbird fill-in member Nick Dalton for further endeavors.
As for rooArt, it soon crept back into being a vessel for 'Oz Rock' with Screaming Jets/Wendy Matthews/James Reyne. Eventually, the indie tinged acts were hauled onto the newly created RA Records division, and later all of rooArt/RA was sold to BMG Australia for $5 million. Some selective titles are available internationally via streaming, yet the majority remain stuck only within the IP territory of Australia, as is the case for loveBUZZ.
loveBUZZ is ripe for reevaluation, for a 30+ plus year old record, it's classic indie pop, and few are disappointed. But like I said, the story behind rooArt is a great saga.