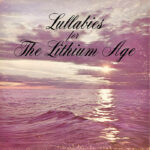 SNOG: Lullabies for the Lithium Age (Metropolis) — Snog have embodied the virtue of consistency for the past thirty years. In 1994, I described their first album, Lies Inc., as "Techno-industrial pop with primary-school Situationist lyrics, i.e. industrial 'lite'."
All albums since, including this one, follow this template. It's Snog's trick and David Thrussell will keep doing it, having come back after a five-year break for his health. This is a fine example of the form and one that benefits from replaying. The music is calm and chilled.
The single is "Spätzle Machine", with a few remixes from the album by Vince Valentini of Crimson Boy. Above: "Death Is But A Dream" and "Ball and Chain".
Though Thrussell's come back as a vaccine crank, which is not so great. Ah well.