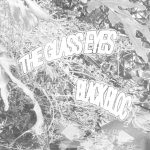 THE GLASS EYES: Black Bloc (Dark Circles) — more of the Neil Younging, as it makes obvious from the first notes of "Morning Call." The recording is acoustically based hi-fi lo-fi, with a good live feel to it. In "I Dunno", I can hear all the late '80s post-hardcore bands, and specifically Sonic Youth on Daydream Nation, taking the same influence from Neil. Not that it sounds like them — it's the acoustic version.
I endorse the blurb: "Let's call this the first real Glass Eyes record. It's our first time recording out of the house and the first time recording over the period of a couple days vs months and months. The other stuff we've got up on here is cool but this one sounds like a band made it." The first two albums are good, and this is noticeably better. Mostly in that the songs are finished, and they don't taunt me with brilliant vignettes. It's another "name your price", and I urge you to give it a preview.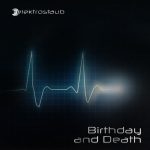 ELEKTROSTAUB: Birthday and Death (Echozone) — The project ("Electric Dust") is Patrick Knoch with a series of guest vocalists — he laments that he simply can't sing — particularly !distain. The music is synthpop firmly based in the industrial and EBM line of descent, more than a few disco stompers, and the sounds are simple but beautiful. The songs are catchy pop songs with uplifting melodies, and no shame as to their influences — I can pick VNV, Covenant and the original Human League — with great variation across the album but clearly the work of a single artist. It breaks no new ground, but treads its ground well.
I was looking forward to this one after the singles "Unforgotten" and "Also Without You" and was not disappointed. Other personal favourites: "Publikumsmagnet," "Dunkle Zeit," "Birthday and Death," "Mein Weg." See also the interview with Bodystyler, which is comprehensible in translation.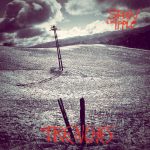 STOLEN APPLE: Trenches — '80s-style guitar-based indie rock of the sort that cribbed from Byrds, Dylan and Neil Young via Dinosaur Jr or Sonic Youth while looking back to the sort of '60s psychedelia that brought the Farfisa. (I'm right into the '80s version of the '60s, of course, this was our bread and butter back in the day.) But mostly it's worthy indie rockism with a slight kaleidoscopic tinge. They're from Florence, Italy, and put this out late last year after playing since 2008. Lyrics are in English with a strong accent. The melodies are good and the songs are solid. This is a good record you'll enjoy. Above: covering "Sugar Kane" by Sonic Youth live.